EWB Engineers Without Borders -Uni Karlsruhe
From Howtopedia - english
Engineers without borders (EWB) University of Karlsruhe participates in activities in the range of international co-operation with developing countries and other organisations pursuing similar goals. EWB is an institution, which is already active in Spain, France, Belgium, England, Italy, Canada and the USA. In Germany (Marburg) the association Ingenieure ohne Grenzen was created two years ago (IOG Marburg). There are further Groups in Berlin and Stuttgart.
The University group EWB Uni Karlsruhe is developing own activities in two main directions:

Co-operation : Co-operation is implemented either by work in the development country ( as part of a final thesis or a practical period abroad) and direct contact with the local people or by co-operation on different levels between universities and institutes abroad.

Education : The educational part covers technical aspects and topics connected to the development and research of alternative and suitable technologies for developing countries.

The substantial emphasis of EWB is the transfer of technology and knowledge in the technical-scientific range to developing countries. The concept of appropriate technology means that adapted technological decisions have to be made with respect to the environmental and sociocultural background of the affected country and local community.

The registration as well as the participation in EWB activities is voluntarily.

EWB is integrated into the university environment, which is the main center of their activities and contacts. Therefore, EWB especially approaches all people with a scientific or technical background like students, professors, researchers, engineers (and not only engineers!!)


Activities
At present, EWB Uni Karlsruhe is busy with the following activities:

Definition of the structure and national and international co-ordination with other EWB groups

Organisation and participation in seminars, design planning, publicity work and documentation

Establishing contacts to other universities and institutes worldwide

Planning of two projects in Sri Lanka

Support and execution of projects in development countries, in particular engineering assistance and consulting (e.g. within the range of water supply and disposal, power supply, road construction...)


http://www.ewb.uni-karlsruhe.de
http://www.ewb.uni-karlsruhe.de/Howtopedia.htm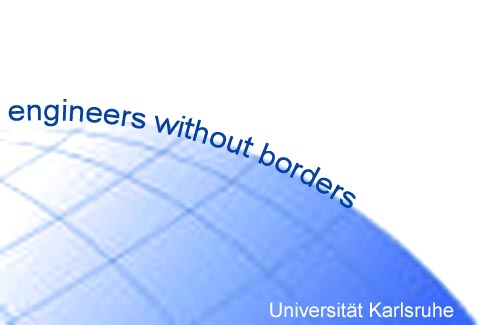 [[]]