How to Get Adjustable Glasses?
From Howtopedia - english
Introduction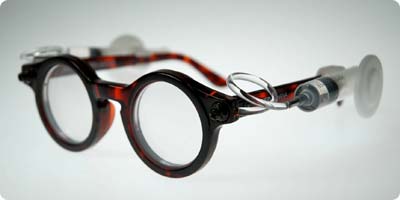 Adaptive Eyecare was invented by Oxford Physics Professor Joshua Silver, who is now director of the non-profit Centre for Vision in the Developing World at the University of Oxford.

For over one billion people in the developing world, glasses are a distant dream. Access to eyecare is almost non-existent in sub-Saharan Africa, and highly restricted in other parts of the developing world. It is beyond the reach of hundreds of millions of the world's growing urban poor.

A lack of proper eyesight has direct effects for those affected by it; a reduction in productivity at work, a closing-off of new opportunities, a reduction in quality of life, a possible deterioration in general health and possibly preventable blindness.

The most vital problem to be overcome in the developing world is the lack of trained optometrists who are able to prescribe properly corrected eyeglasses.

Global Vision 2020 adopts a new approach to the issue through the application of technology by deploying adjustable eyeglasses. This technology allows the recipient to correct their own vision; a process known as 'self-refraction'.
Adjustable lenses in spectacles present one of the most promising solution to the developing world's requirements.
Global Vision 2020 aims to tackle the vast issue of vision correction globally through the dissemination of self-adjustable eyeglasses through the use of existing aid/development organization distribution networks throughout the world.
How it works
Adjustable eyeglasses (also known as adaptive eyewear or adaptive glasses) get around the problem that faces many correction techniques by being a single (or very few) unit(s) that can be changed in the field to produce a range of different prescriptions, without needing additional parts or labour.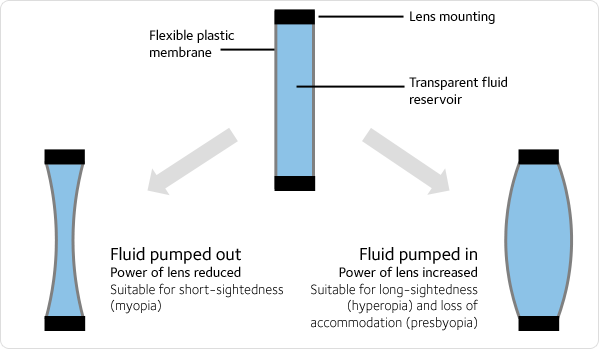 Fluid-filled lenses use the incompressibility of liquids to change the physical shape of the lens. The lens is constructed with two flexible membranes on the optical surfaces, held in place by a solid surround.
The power of the lens is changed by pumping fluid into or out of the central lens reservoir - less fluid causes the flexible membranes to bow inwards due to the reduced internal pressure, and more fluid causes the membranes to expand outwards, as shown in the diagram. This causes the lens to change refractive power, which makes it suitable for adjustable eyeglasses.
Advantages
Simple actuation mechanism - pumping fluid from external reservoirs (e.g. a syringe)
Suitable for fitting into spectacle frames
Can be made to different sizes relatively easily
Tough and durable if the membranes are placed behind plastic covers
However, fluid-filled lenses have the following limitations:
Current technology only allows the lenses to be circular
Astigmatism of the eye cannot presently be corrected
Getting adjustable Glasses
Global Vision 2020 makes available to any qualifying non-profit, NGO, or government organization the best 'technological fit' for delivering eyeglasses to the developing world. Global Vision 2020 makes the devices and the training available to distributors at no or low cost, in order to take advantage of the distribution networks and contacts that these organizations have made throughout the world. At this point (2009) glasses have been deployed in Morocco, Liberia, Ghana, Angola, Nigeria, Senegal, Tibet, China, Bulgaria, Kosovo, Romania, Georgia, Nicaragua
Contacts
Centre for Vision in the Developing World
http://www.vdw.ox.ac.uk

Global Vision 2020
http://www.gv2020.org
P.O. Box 3332, Easton, MD 21601-3332, USA
E: info@gv2020.org (General Inquiries)
T: 00 1-410-822-6170

Categories