Pedal-Powered Electricity Generator
From Howtopedia - english
This article is a draft. It was just started and needs further work.
Short Description
Problem: Lack of wind, water or fuel to power a generator.
Idea: Combine a chair and the back end of a bike to power a generator
Difficulty: Difficult
Price Range: Depends on the material's availability
Material Needed: Chair, the back end of a bike, generator, belt, poles, welding device
How Many people? 1-2
Concept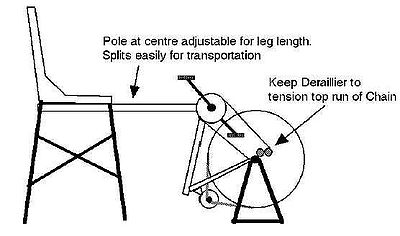 How to Build the Pedal-Powered Electricity Generator
Step 1: Connect the bicycle rear with the chair.
Use an adjustable pole if you want to adjust the pedal powered generator to different leg length.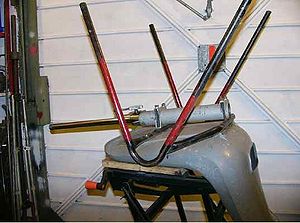 Use a socket to provide more portability.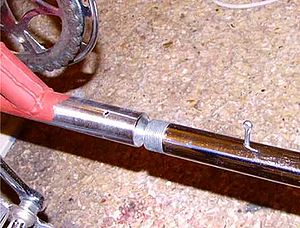 Do not weld directly onto the crank housing.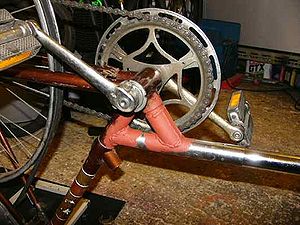 The final crank position should be a couple of inches above the seat.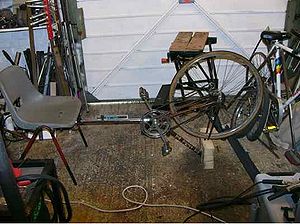 Step 2: The base for the generator.
The generator will be placed on the bottom in the front of the wheel and its base can be made of office chair parts.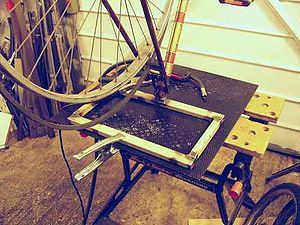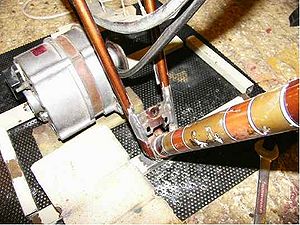 Step 3: Generator belt
The wheel shown in the picture above is a 26 inch one. To fit the generator between the wheel and the ground a A78 (78 inch circumference) belt was used. Now everything is ready to convert mechanical energy to electrical energy.

References and Further Reading
Related Articles
- Principles of Muscle Power
- Treadmills
- Pedal-Powered Devices (Overview)
- Pedal-Powered Blender
- Hand-Crank Devices (Overview)
- Hand-Crank Electricity Generator
- Hand-Crank Blender
- Hand-Crank Food/Grain/Coffee Mill

Categories
--HTP Meret 21:54, 27 February 2010 (UTC)