How to Build an Efficient Wood Oven
From Howtopedia - english
This article is a draft. It was just started and needs further work.
General principles how to build an efficient oven
1) Insulate around the fire using lightweight, heat-resistant materials.
2) Place an insulated short chimney right above the fire to burn up the smoke and speed up the draft.
3) Heat and burn the tips of the sticks as they enter the fire to make flame, not smoke.
4) High and low heat are created by how many sticks are pushed into the fire.
5) Maintain a good fast draft from under the fire, up through the coals. Avoid allowing too much extra air in above the fire to cool it.
6) Too little draft being pulled into the fire will result in smoke and excess charcoal.
7) Keep unrestricted airflow by maintaining constant cross sectional area through the stove. The opening into the fire, the size of the spaces within the stove through which hot air flows, and the chimney should all be about the same size.
8) Use a grate under the fire.
9) Insulate the heat flow path, from the fire, to and around the pot(s) or griddle.
10) Maximize heat transfer to the pot with properly sized gaps.

Step 1: Consult and design stoves
Workers must observe the kitchen surrounding, ask landlord where to put the stove in, what location in the kitchen before building stoves (be noticed about norms and traditions of the local regarding kitchen direction, date, hours to build stoves).
If the stove is not located in the correct position, workers should guide and explain the owner to put the stove in the suitable position, where users can still watch over houses, front ground, entrance gates and where windows with sufficient sunlight are close to when cooking.
Workers must ask the owners how many people usually eat in their household, whether they raise animals. After that, the workers should ask the owners to show all types of pots, pans that are used daily in order to determine the size of the stove.
Take a good look at kitchen's walls to determine whether the stove chimneys should be placed inside or outside of the kitchen.
Examine the kitchen's floor to determine whether to heighten the stove's bottom at 5-7 cm higher than the kitchen's floor.
Examine all materials such as: lime, sand, red bricks, broken bricks, stones, phosphate fertilizer, cement, F6 and F14 - F16 iron, pipe with at lease F100 of inner diameter. If any material is missing, landlord is required to buy so that workers can build the stoves without pending.
For a good standard cook stove, all technical factors must be examined. All of those factors have been tested in reality. Thus, workers must learn them by heart. For users, they are only required to understand structure principles and use instructions. Beside technical factors, workers must know and implement the following steps.
Step 2: Determine the position and size of the stove with chimney in the kitchen
If the chimney is placed inside the kitchen, workers must examine the roof to allocate the chimney to be placed between the 2 leverages in the kitchen
Determine positions of pots to be put on the stove. Usually, pots used to cook bran, vegetables, rice as samples (picture 2)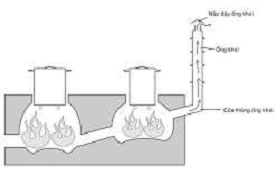 Contact

Research Center for Energy & Environment (RCEE)
Address: No. 33, Trung Yen 9 Road, Yen Hoa ward, Cau Giay district, Hanoi, Vietnam Tel: (+84-4) 6291 2407, Fax: (+84-04) 3786 8593 Email: rcee.ease@gmail.com
Website : https://www.undeerc.org / http://rcee.org.vn
Dr. Larry Winiarski, Ten Design Principles for Wood Burning Stoves, Aprovecho Research Center
Website: http://www.aprovecho.org/lab/index.php /

Video
Video clip: http://www.youtube.com/watch?v=-kfowAQUgd0
Links
Link to Fourthway's poster "How to make a fuel saving stove": http://www.fourthway.co.uk/posters/pages/fuelsavingstove.html
Related articles
- How to Build an Efficient Wood Oven
- How to Build a Winiarski Rocket Stove
- How to Make a Cooking Box (Hay Box / Hay bag)
- How to Build Solar Cookers
- How to Build a Clean Dung-Burning Stove

Categories