How to Get a Hipporoller
From Howtopedia - english
What is a Hippo Water Roller ?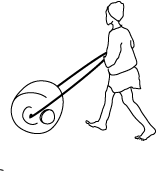 Millions of people have to walk long distances on a daily basis to collect their water requirements for the day. Traditional methods of collecting water include the use of 20-liter (5-gallon) buckets, which are laboriously carried on the head. Extensive suffering occurs in the process. This method is very time and energy consuming and is also the cause of many serious health problems.

The Hippo Water Roller should facilitate the access to water. The Hippo Water Roller is a barrel-shaped container designed to transport 90 liters (20 gallons) of water. It comprises of a drum with a large screw-on cap and a clip-on steel handle.

The drum is manufactured from UV stabilized Polyethylene and has been designed to withstand typical rural conditions such as uneven footpaths, rocks and even broken bottles. The large opening (135 mm / 5.3 inch diameter) allows for easy filling and cleaning of the interior. The sealed lid ensures hygienic storage of water and the steel handle provides firm control over difficult terrain while pushing or pulling the roller.

The design allows water to be placed inside the "wheel" rather than carried above the wheel. The 90kg (200 pound) weight of water is borne on the ground resulting in an effective weight of just 10kg (22 pounds) on level ground. Children and the elderly can easily manage a full roller over most types of terrain. Extensive field tests over many years and various awards have proven the effectiveness of the Hippo Water Roller. Approximately five times the normal amount of water can now be collected in less time with far less effort.

The Hipporoller can be coupled with a drip irrigation system.

Imvubu Projects states that the Hipporoller might have a landmine protection effect.

Cost
Contact
Fax:+27 86 689-9961
Mobile:+27 82 447-1848
Imvubu Projects cc
PO Box 170, Fourways, 2055, South Africa

Related Articles
Categories