How to Build a "Water Motor"
From Howtopedia - english
This article is a draft. It was just started and needs further work.
Short Description
Problem: lack of energy sources
Idea:Using small water streams to power mechanical saws or milling machines.
Difficulty:
Price Range: purchase between US$ 650 and 990 (incl. shipping costs)
Material Needed:
Geographic Area: mountainous area with waterfalls (high water head)
Competencies:
How Many people?
How Long does it take?
Description
Each small fast flowing stream offers a wealth of clean, free energy just waiting to be used. Putting unused small waterpower resources to work would have a major positive effect on rural poverty.
Many of the machines vital to productivity and human comfort can be run with waterpower, albeit not as easily as by an electric motor. The equipment for these small high speed turbines is neither complicated nor expensive to produce, but was simply not available. Yet for many rural people, small scale water-power is a prime practical local source of mechanical energy.
Waterpower was one of humanity's main reliables source of energy for running machinery for thousands of years, but was abandoned with the advent of centralized electricity generating systems feeding long distance power lines. By using modern micro-turbines, local waterpower resources can once again be used for what it does best: drive machines. Most machines found in workshops are driven by electric motors of upto 5 horse power (3.75 KW). Small efficient turbines can easily produce this amount of power from a surprisingly small quantity of water falling a short distance. Unlike electric motors, turbines cannot be damaged by hard use, and have no ongoing fuel costs.
Since such a turbine was not available, we decided to design one at Campo Nuevo. The Campo Nuevo 'Watermotor' is the result. At our demonstration site, the 'Watermotor' produces ample power to run a variety of machines.Water pressure is obtained from a source l8.3 m. (60 ft.) above the Watermotor.
Difficulties
Success Story
Plans, Illustrations, Posters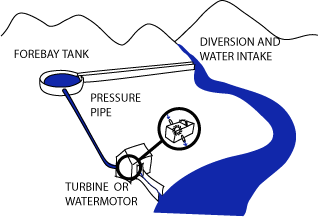 Contacts
For more information contact Ron Davis or Diane Bellomy at:
Campo Nuevo
Casilla 4365, La Paz, Bolivia.
watermotor( at) yahoo.com
Telephone: (591-2) 2485022 or (591-2)2485159
Mobile: (591-2) 7152770
Links
www.watermotor.net
http://www.youtube.com/watch?v=Eg3tamSeO_c
Bibliography
Related articles
- How to Provide Lighting in Rural Areas-Principles-
- How to Build a Windpump (Principles)
- How to Use Energy from the Wind
- How to Plan a Micro Hydro-power Plant
- How to Build a "Water Motor"
- How to Build a Small Wind Turbine
- How to Generate Wind Electricity (Principles)
- How to Use Energy from the Wind
- How to Provide Electricity in Rural Areas-Principles-
- How to Build Small Educational Wind Turbine
- How to Store Electricity in Batteries

Two ways to support the work of howtopedia for more practical articles on simple technologies:
Support us financially or,
Testimonials on how you use howtopedia are just as precious: So write us !

<paypal />

Categories